At Premier VendGroup, our people are our most important asset. Therefore, we are thankful to have such wonderful employees and clients. This holiday season, we'd like to take a moment to thank our team. We'd also like to thank the Los Angeles businesses we serve. 
We Are Thankful for Our Team
Since 1955, our team has gone the extra mile. Thus, we are able to deliver great services to our clients. We are truly thankful for all of our dedicated employees. For instance, our micro-market team helps clients create a custom solution that works for them. Furthermore, our warehouse workers choose the products you love to keep your break rooms fully stocked. Lastly, our leaders set great examples for everyone in the company.
Our team works together to offer amazing break room services to our clients.
We Appreciate Our Loyal Clients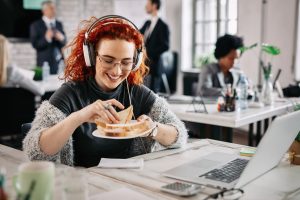 We would like to thank our clients. Thank you for letting us serve your Los Angeles office's needs. In fact, we love offering refreshment solutions that work for you. That's why we offer quality services whether you're looking for a micro-market, office coffee or pantry service, or a vending service 
Additionally, we're also thankful for your business referrals. We're honored to be your trusted partner.
 We Love Making Our Clients Happy
At Premier VendGroup, we're dedicated to delivering quality Los Angeles break room services. Moreover, we keep our clients happy. We do this by enhancing our services, investing in the latest technology, and creating a customer-centric experience. Some of the solutions we're proud to offer include:
Micro-markets: These onsite cafes offer employees tons of options. They can buy fresh food, snacks and drinks. Better yet, we also carry healthy options!  
Vending services: Our modern  Los Angeles vending machines are convenient. Employees can purchase their favorite snacks, beverages, and fresh food. They can also get better-for-you refreshments. 
Office pantry: Complimentary food is a great employee perk. Our Los Angeles office pantry service can boost staff satisfaction and help you recruit new talent!
Office coffee service: Keep your staff fueled with café quality coffee. We have a variety of brewers to choose from! For example, we offer single-cup, bean-to-cup, and traditional coffee brewers as part of our Los Angeles office coffee service.
Hotel pantry service: We also offer Los Angeles hotel pantry service for Southern California hotels! Keep the hotel pantry well stocked for your hotel guests. 
Smarter Technology
Lastly, we're always investing in our technology. For instance, we use software technology to keep an eye on product inventory. In other words,  you never have to alert us when refreshments are running low. This helps us keep your Los Angeles break room fully stocked. Additionally, our coffee brewers have touchless technology. Employees can craft their favorite cups using their smartphones. Therefore, it reduces germs.
Best of all, our vending machines offer cashless payment options. Employees can pay  using cash,  credit cards or mobile wallets. Don't forget, our vending machines are also energy efficient. This protects the planet!
We're Thankful for Your Business
Premier VendGroup is thankful for our employees and clients. We're proud to be your break room solutions partner.
If you're interested in our services, contact us today at 562-928-1301 or service@premiervendgroup.com. We offer micro-markets, vending, office coffee, office pantry, hotel pantry, and refreshment solutions.