Comfort foods make us feel nostalgic, often conjuring up past experiences or memories of a happier time. Whether it's sitting at the kitchen counter indulging in Grandma's cake or soothing yourself from a bad day with mac & cheese, comfort foods put us in a safe and happy space. So, we thought we'd share some of our favorite comfort foods that millions of people enjoy for lunch, every day. After all, there's nothing wrong with occasionally indulging in your favorite comfort foods.  Here's our shortlist of comfort foods available in our Los Angeles micro-markets that will make you forget your troubles.
Pizza
If there weren't so many delicious foods on this list, we'd declare pizza the winner and call it a day. In fact, according to a 2016 Harris Poll, 15% of Americans declared pizza as their favorite comfort food, nearly double that of any other food choice.  It's warm, delicious, and can be custom-made to your taste.  Moreover, the smell alone can make your mouth water. Pizza is best paired with beverages like cold ice tea or soda to satisfy your cravings.
Mac & cheese
For some, eating mac & cheese makes them feel like a kid again. In fact, this dish is so delicious that adults now enjoy fancier versions of mac & cheese. It's versatile because it can be served as a snack or a main dish. For adults, you can get creative by adding bacon, caramelized onions, and prosciutto. Even though National Mac and Cheese Day is in July, we think you can get a head start and indulge in this delicious golden-baked comfort food today.
Grilled cheese sandwich is the ultimate in comfort foods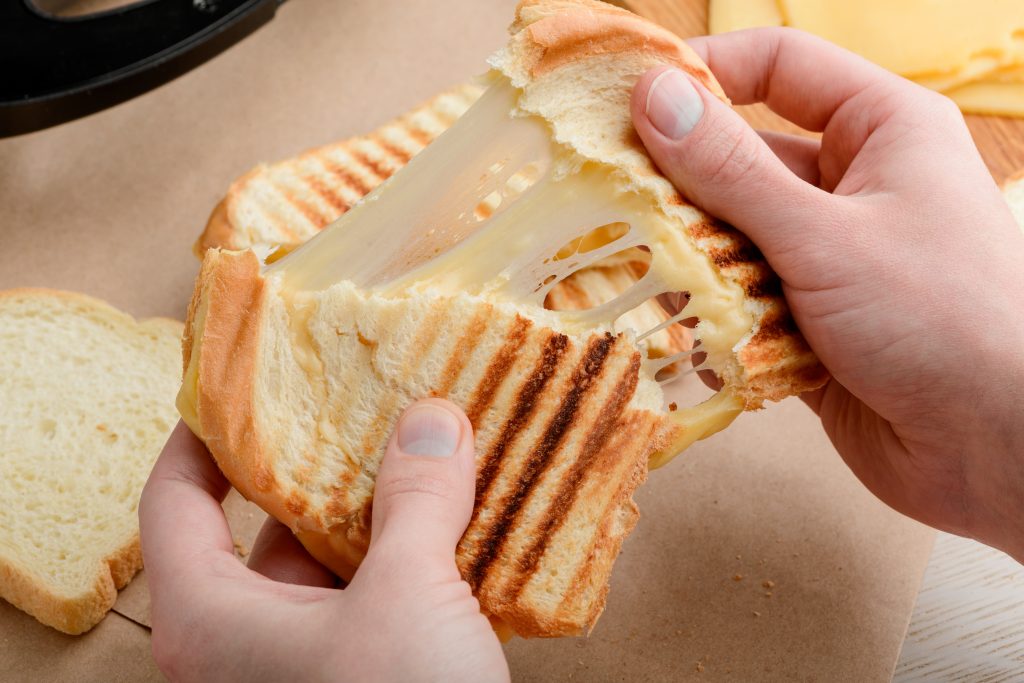 Any time you put bread and cheese together, you will have a winning combination on your hands. It's one of the most popular comfort food and easy to make whether you're a great cook or a novice. And you don't have to feel guilty eating it because it contains fiber and protein to help keep your body strong and bones healthy.  The grilled cheese sandwich is one you can take from childhood to adulthood, and most people do.
Spaghetti with meat sauce
Can you think of a more filling meal? Seriously, no one ever eats spaghetti and leaves feeling hungry. It can be eaten cold and warm. Furthermore, you can make it "fancy" by adding fresh garlic, hot pepper flakes,  cheese, extra virgin olive oil, and more.  You'll know you've had a filling lunch in your Los Angeles office break room after a hearty bowl of spaghetti with meat sauce.
Comfort foods soothe the soul
In short, comfort foods have the power to soothe us, make us feel nostalgic, and activate the pleasure part of our brains when we eat them. Take a moment to enjoy your favorite comfort foods at our Los Angeles micro-markets.
Contact Premier VendGroup at 562-928-1301 or service@premiervendgroup.com  for information about our office coffee, micro-market, office pantry, or vending services. We look forward to working with you!