A nutritious breakfast can help you get a positive start to your day. The first meal of the day offers a great chance to add important vitamins to your diet. Starting your day off with a healthy meal provides you with the energy needed to fuel your body and mind. We thought it would be fun to share some of our favorite breakfast items in honor of Better Breakfast Month, which took place in September.
You can support your employees by including breakfast foods in your Los Angeles break room. On a busy day, not everyone has time to eat breakfast. Making breakfast options available in the break room can help sustain employees through the workday.
5 Breakfast Options to Fuel Los Angeles Employees
The sky's the limit when it comes to breakfast foods. Here are a few of our favorite options that you can consider offering through our  Los Angeles vending, micro-market, or office pantry services.
1. Egg Sandwiches

Eggs are an excellent breakfast food. Packed with protein and nutrients, they give you the energy you need to get through a busy morning. It's a perfect harmony of fluffy eggs nestled between toasted slices of bread. You'll enjoy a symphony of flavors in every bite. Grab a juice or another beverage from the Los Angeles vending machine to complete your healthy breakfast.
2. Cereal with Milk

Cereal and milk are a timeless duo. The crunch of cereal and the creamy goodness of milk help you start your day on a delightful note. Make this a healthy breakfast choice by opting for a whole-grain, low-sugar cereal. Plus, you can choose low-fat milk.
At Premier VendGroup, we can customize the food options in your break room. For example, include plant-based milk options in your Huntington Park micro-market. You can also offer a variety of healthy cereals in attractive bulk food dispensers in an office pantry. Providing breakfast options can help keep employees energized. Plus, these break room solutions can also boost employee retention.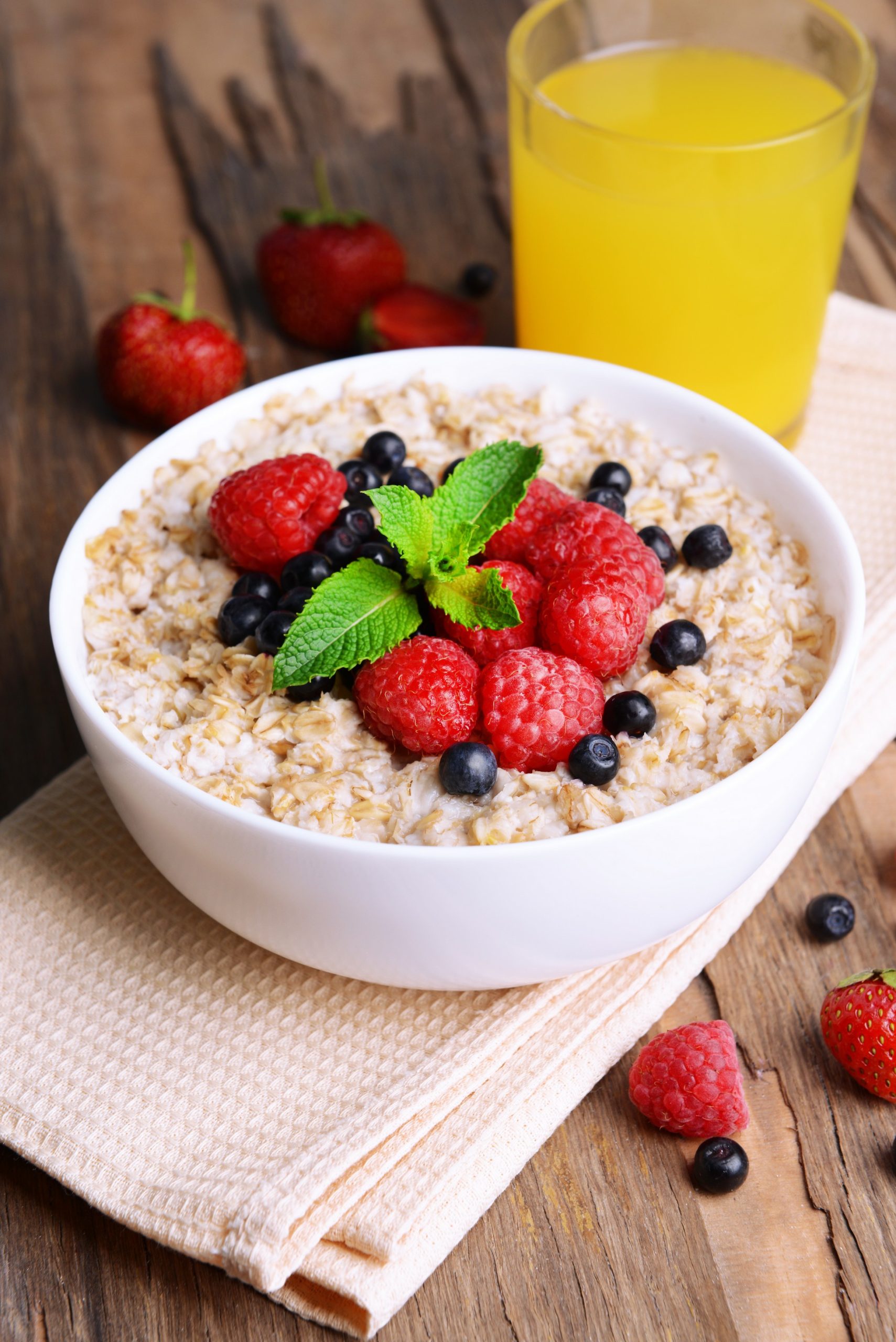 3. Yogurt with Nuts, Fruit, and Granola

Start your day off with a cup of smooth yogurt, salty, crunchy nuts, and the sweet tang of berries. Yogurt is a high-protein food that is also a good source of calcium. Plus, yogurt is a probiotic-rich option that is great for gut health. Nuts, granola, and fruit add other important nutrients and fiber. That makes it a great breakfast or mid-morning snack that can boost your energy levels. Pair your yogurt with a cappuccino from your Paramount office coffee station, and you've got a complete breakfast!
4. Oatmeal

Start your day with a nutritious kick. A comforting food for cool days, oatmeal is also a heart-healthy choice. Add some nut butter, nuts, berries, fruit, or milk to give more flavor to your oatmeal.
Complement your oatmeal breakfast with a few extra snacks such as jerky or trail mix for added protein. Also, grab a cup of hot cup of tea from your Los Angeles office coffee and tea station.
5. Fresh fruit

Fuel your morning with the vibrant vitality of fresh fruits. Fresh fruit like berries, apples, bananas, and more provide a burst of vitamins and natural sweetness to your breakfast. Whether on their own or alongside a bagel, breakfast fruits offer a treasure trove of essential nutrients and antioxidants.
How to Bring These Options to Your Los Angeles Break Room
There's a reason they say breakfast is the most important meal of the day! It's the meal that gets your body and brain started. Make sure your team gets a great start every day by bringing it to your Los Angeles workplace. Offering morning choices and other fresh food in the break room can boost employee satisfaction and productivity.
We are here to help! We can tailor our break room services to meet your unique needs and ensure everyone can always find their favorite breakfast foods.
Get in touch to learn more about our Los Angeles break room services at 562-928-1301 or contact us online. We look forward to working with you.