Your Los Angeles break room is one of the most important spaces in your office.  It's the place where employees can get away from their work, connect with others, or just relax and enjoy downtime. That's why it's important to create a functional and inviting space that works for employees. We've dedicated this blog with ideas to help you create your ideal break room.
Keep the break room separate
The break room and the office workspace should be as separate as possible. This will give employees the feeling that the spaces are truly separate and they can relax and focus on reenergizing rather than focusing on work-related issues. If you have a small office, try using room dividers or a wall of plants to create separate spaces. Furthermore, keep in mind that not everyone comes to the break room to socialize. Therefore, you may want to ensure there is a quiet space for employees to practice mindful meditation, read, or just relax.
Yes, the furniture in the break room matters
When designing your break room, make sure you include comfortable furniture. No one likes to sit on a hard plastic or wood chair in the office. Instead, you can furnish the space with a sofa, loveseats, or reclining chairs to create a relaxing environment. In addition to furniture, you may want to consider personalizing the space with company branding, as well as photos.  Images from past employee appreciation events, BBQs, corporate retreats, and team lunches are perfect to include. Promoting a close-knit team environment can also bolster your talent retention and recruiting efforts. Finally, consider adding a TV to share company-related videos, major sporting events, or Netflix shows for employees to enjoy.
Refreshments are important in the break room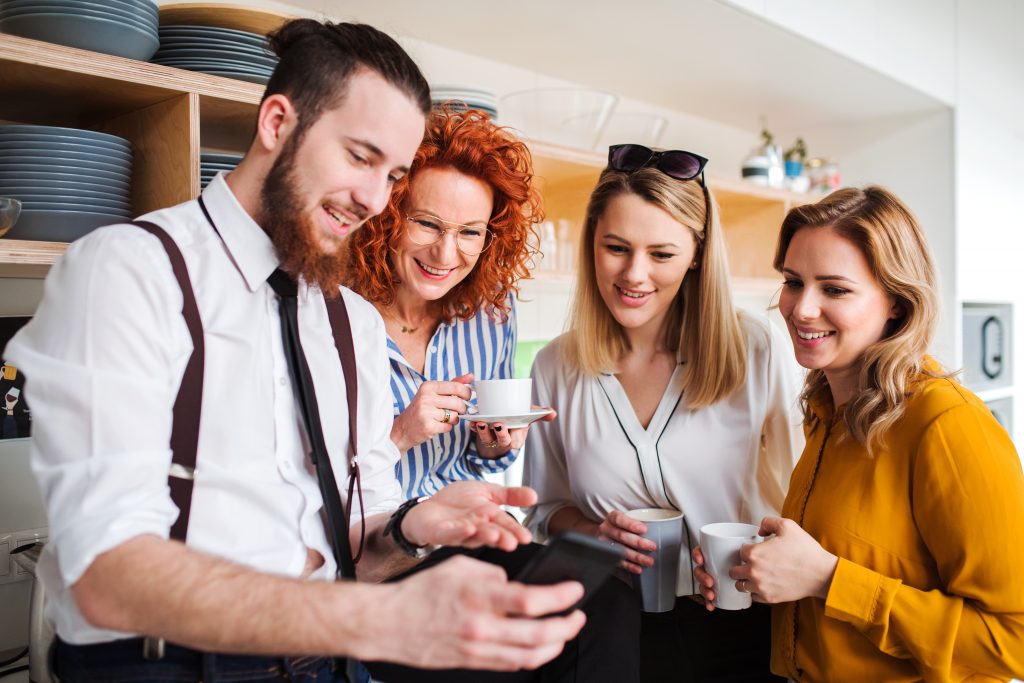 Food in the break room is essential. Otherwise, why even have a break room?  Whether employees are enjoying lunch, snacks, or beverages, great refreshments are important considering the amount of time they spend in the office. Let's look at some refreshments solutions that go beyond Los Angeles vending machines, which may be right for your office.
Micro-Markets
Impress employees with the ultimate break room refreshment solution with a Los Angeles micro-market. It's an open-air cafe that provides a wide range of fresh food entrees, tasty snacks, and refreshing beverages all customized to your needs. Employees will be able to purchase products at a self-checkout kiosk using credit cards, mobile wallets, or cash. Our team remotely monitors the micro-market to keep it stocked with your favorite products.
Office Coffee
Elevate the coffee break in your office with our Los Angeles office coffee service. We bring you popular national brands of coffee as well as gourmet options. Whether you're looking for traditional or specialty coffee services, we can help. Premier VendGroup's coffee brewers come with touchless technology so you can make coffee using your mobile phone.
Office Pantry
This employee perk allows the business to pay for the refreshments and provides them to employees free of charge. We bring grab-and-go refreshments all customized to your office's needs, including healthy options. A Los Angeles office pantry service will show your employees that they are valued and appreciated. Make your business stand out from others with this unique employee perk.
Add activities & games
To add some fun into the break room, provide a space for games. They don't have to be over the top. Ping pong table, board games, a foosball table can help your employees connect and create social bonds over fun recreation activities.
To sum up, employees spend 8+ hours a day in the office. Why not make it enjoyable for them by creating a break room space that will help them relax, refuel, and rejuvenate, and come back to work fresh.
For more information about adding office coffee, micro-market, pantry, or vending services to your Los Angeles break room, contact Premier VendGroup at 562-928-1301 or service@premiervendgroup.com. We look forward to working with you!