April is a special time for the Premier VendGroup family. It is our 67-year anniversary in business offering full-service refreshment solutions to Southern California businesses. What a milestone! How did we get here?  We're taking a sneak peek into our past, exploring our refreshment solutions of today, and sharing exciting news for the future.
Reflecting on the past
We started our small family business in 1955 by installing coin-operated jukeboxes and pinball games in bowling alleys. Later, we added food vending because our customers wanted refreshments. After that, we added more refreshment solutions based on customer interest. In short, we have grown to nearly 50 employees and multiple refreshment solutions over the last six decades.
Premier VendGroup offers full-service solutions in the Present
Today, we are proud to offer a variety of refreshment solutions. Our goal has always been to make sure our refreshment services meet the needs of our clients.  Furthermore, we continue to grow and support our team of professionals as they deliver a customer-first experience.
Micro-Markets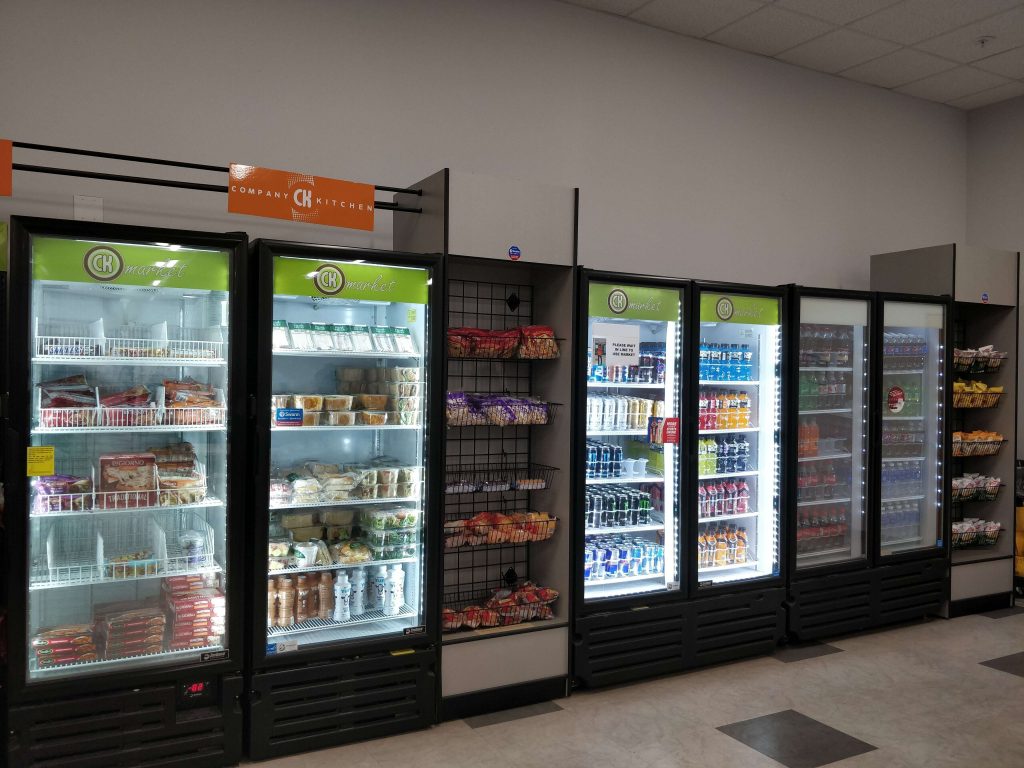 Clients can reimagine the break room as a cafe filled with fresh foods, trendy snacks, and refreshing beverages. The market is open 24/7 so customers can enjoy refreshments on-site throughout the day. Pay for products at the self-serve kiosk with cash, credit cards, or mobile wallets. Talk about convenience!  Our team monitors the Los Angeles micro-market to ensure the products that customers want are always in stock.
Office coffee
Brew up something special with our Los Angeles office coffee service. We offer single-cup, bean-to-cup, and traditional. Customers can enjoy premium coffee brands throughout the day. Our office coffee service allows customers to enjoy delicious, aromatic coffee in the office break room. In addition, our water filtration services offer fresh, clean, drinking water, sparkling water, and even flavored water to keep everyone well hydrated. Moreover, both the water and coffee services have contactless technology which allows customers to customize their cups using their mobile phones.
Office pantry
Enhance your workplace culture with grab-and-go refreshments in the break room with our Los Angeles office pantry service. In fact, make the office pantry service a part of your workplace recruiting and retention strategy. In other words, keep your top employees and recruit new talent by differentiating your business from others in the area.
Vending
Whether you're looking for fresh foods, snacks, or hot and cold beverages, we've got a vending machine for that. Elevate the break room in your workplace with our industry-leading Los Angeles vending machines. We can customize our vending machines to meet the needs of our customers. This includes a mixture of traditional, trendy, and healthy options. And,  if you're looking to upgrade vending, we offer the 365 Retail Markets PicoCooler. The cooler offers a variety of refreshments is easy to use and fits in almost any space.
Hotel pantry
We've made it easy for hotel managers to order refreshments and souvenirs for the hotel market. In addition, we can also supply accessories for the hotel pool through our Los Angeles hotel pantry service. Hotel managers can place the order through our online ordering system and we deliver it the next business day. Best of all, there are no minimum order requirements.  This unique service helps hotel managers create a 5-star experience for their guests.
The Premier VendGroup Team
We've built a team that is focused on the customer experience. We have team members that work in the warehouse, as route drivers, technicians, and in the office. Every team member plays a vital role in our success to deliver best-in-class custom refreshment solutions to Los Angeles clients.
Premier VendGroup looks to future
We've got many exciting things coming up in the near future. For instance, we recently shared that we will partner with Supply Wizards to streamline our office coffee, office pantry, and water filtration services. Clients will now be able to order products for these services through a user-friendly online portal. In other words,  it will make our client's jobs easier and save them valuable time. You can read more about this partnership in our March 30th blog post. In addition, Premier VendGroup is excited to share that we will add 100% electric vans to our fleet of vehicles. Our customers will love that we are thinking about the environment as we deliver refreshments to their break rooms. As our business looks to the future, we will continue to improve our refreshment solutions, nurture and build our hard-working team, and invest in new technology to stay ahead of our competitors.
Contact Premier VendGroup at 562-928-1301 or service@premiervendgroup.com  for information about our office coffee, micro-market, office pantry, or vending services. We look forward to working with you!